2011 saw the passing of the file system as an end user-visible feature within mass market computing devices. Ask someone with an iPhone or an iPad how they work with files on their device, creating, opening and saving them and chances are that they will look at you quizzically. You may get a response that mentions saving photos sent in an email or perhaps syncing documents via iTunes, but files? We don't need no files. It's unlikely that you'll get an answer involving the /Documents directory within an application's unique home directory on an HFS volume, unless you happened to chance upon someone who writes iOS apps for a living.
The file system had been unwell for some time, increasingly slipping into irrelevance in an age of smart phones and tablets and of people using web applications en masse and storing their personal data in The Cloud, whatever that is. Nowadays we work with Google Docs and Dropbox where once we whizzed around FAT32 and NTFS. The file system has become someone else's problem to manage, something best left to the experts and their infinite data centres.
It's all a far cry from the file system's heyday in the 1990s, when it acquired a whole range of empowering features that were turned into bullet points on the retail box of its parent operating system. Long—more than eleven characters was considered long—file names, disk compression, journalling and even 64-bitness were all desirable attributes in a time when users lived in fear of installing what we once called programs, during a time when you had to know about computers in order to use them.
The details of the file system's birth and early years are somewhat hazy. It didn't really have a name of its own back in the 1950s and 1960s and ran as part of the IBM or DEC operating system on mainframes and minicomputers. Gary Kildall's 1973 CP/M had a file system that let you store files in a flat hierarchy—directories would came later. File names could be no longer than eight characters plus a three character file extension for determining the type of the file. Surely this would be sufficient for the foreseeable future?
The File Allocation Table (FAT) is probably the most pervasive file system ever created, which is a shame because it's rubbish. There are probably aliens out there somewhere in the void with quantum computers that can read FAT partitions, that's how ubiquitous it is. FAT emerged blinking into the light in 1977 with Microsoft Disk Basic and went on to conquer the world with Microsoft's CP/M clone MS-DOS. MS-DOS 2.0 was introduced in 1983 and with it came the concept of directories, for the first time exposing millions of innocent people to the joy of losing their work in a file system hierarchy they couldn't remember or didn't understand in the first place. Was it cd. or cd..?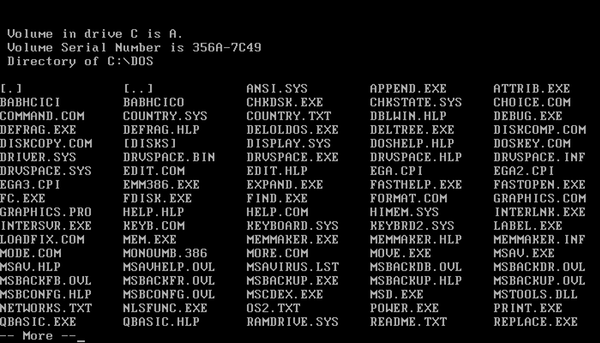 1984's Apple Macintosh also had a hierarchical file system but presented it as a rather more understandable collection of folders on a virtual desktop, designed to remind you of the actual physical desk your beautifully-designed Macintosh sat on, although who an earth has a Russian doll arrangement of folders within folders within folders within folders on their desk?
The Finder file system management program that came with the original MacOS was also spatial, a much-missed design by those old enough to remember it whereby folders mimicked their real world namesakes by remembering their size and positioning and the positioning of the items within them. The original Macintosh File System (MFS) also permitted file names to be a decadant 63 characters in length, although bizarrely this was reduced to a mere 31 characters upon the introduction of the Hierarchical File System (HFS) in 1985.
Microsoft finally came up with a GUI worthy of competing with the Macintosh when they launched Windows 95. The new shell namespace featuring virtual folders such as the Control Panel meant that directories were now folders apart from when they were still directories. That's confusing, but not as confusing as Windows 95's ingenious VFAT hack.
VFAT let Windows 95 have long file names—an unimaginably vast 255 characters' worth—whilst still being compatible with all that crusty old MS-DOS software that businesses were still run on. Every file with a long file name got an 8.3 short version too that MS-DOS could see. Apple ran a brilliant C:\ONGRTLNS.W95 advert lampooning this at the time, although it possibly went over the heads of most people, who had never wanted to care about such details.
The file system hung on bravely towards the end, managing to prolong its life for a few years by learning some new tricks from its arch enemy the Web. After two decades of watching people struggle with the concept of a hierarchy, it suddenly boldly proclaimed that it simply no longer mattered where you saved your stuff, because real-time indexing and instant search would find it for you anyway. So you could finally go ahead and dump everything in C:\ with a clear conscience.
Although it tried to change with the times, in the end the relentless march of progress was too much for the end user visible file system. The final death knell came during the summer of 2011, when Apple released Mac OS X Lion which saw some of the user friendly convenience of its hugely successful iOS platform brought back to the desktop. Lion launched with a spate of applications that took advantage of its new Auto Save, Versions and Resume features, causing the file system to simply evaporate away, unnoticed and unmissed.
Do not mourn the file system's death too deeply, for it's not premature and in fact there's a strong argument to be made that it should have died off years ago. It had a good run. Truth be told it was always something that non-expert users shouldn't have ever needed to care about in the first place. It's a means to an end. People don't use computers because they want to work with files and folder hierarchies. They don't want to be bothered with exploring their disk in order to find that Word document they created last week.
People use computers because they want to get things done, easily and conveniently. Computers are for tasks like writing a letter of complaint, managing the family finances, email, looking at photos or simply having fun. Their purpose is not to force us to get involved in the finer details of where bits and bytes should be stored, although there will always be those who enjoy such matters and I count myself amongst them.
Please send flowers or donations to the file system's cousin the drive letter.